Internet Solutions
N-Sync inc. is a complete Graphic Design, Web Development and Web Hosting Company. We can develop a completely custom site from scratch using HTML, PHP, Sql, Javascript, jQuery, CSS or use any of the popular major open source platforms. We support all the major browsers, including Firefox, Explorer, Safari, Chrome and Opera.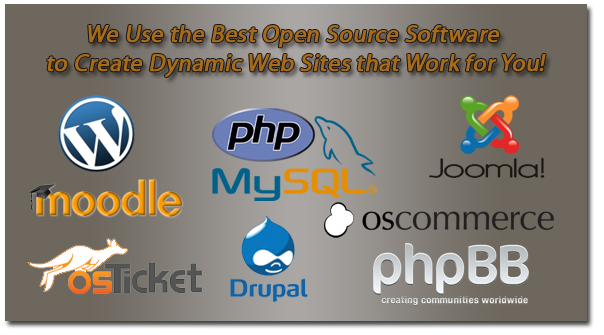 List of Platforms
This is just a small list of the many platforms we have used and can use for your site.
– WordPress
– Joomla!
– Drupal
– osCommerce
– phpBB
– MyBB
– osTicket
– Moodle
– bbPress
– WebCalendar
– CakePHP
There is a broad range of website categories that Nsync can develop. Among them are static or dynamic websites, blogs, e-commerce, social networking, forums & bulletin boards, educational, portals, support, project management, wikis, classifieds and calendars or we can develop a custom CMS for your needs.
Graphic Design
Nsync can help you establish your brand identity by creating an attractive logo or other graphics for your business. We have the ability to scan your photos and enhance them using the Adobe suite of products to give your company a professional edge.
SEO
Search Engine Optimization is a major part of any website development project and helps determine where your site will rank in the search engines organic results. Our designers have years of experience in the techniques that will help your site get ranked higher in the search engines and attract more visitors.
Social Networking
Social networking has become a major part of brand marketing. We can help you establish your identity and drive additional traffic to your site. Nsync can design icons, logos, backgrounds and images to use on your social networking profiles to improve your brand identity.
Mobile Sites
In recent years mobile users have increased significantly. Nsync can help you cater to this increasing customer base by developing a mobile site for your company optimized for mobile phone and tablet browsers.
Hosting
Nsync offers several different hosting packages based on your needs. Several packages include varying amounts of web site maintenance
E-Commerce
More and more companies are expanding into the online market to sell their products. We can help develop a custom shopping cart with a merchant account, or simply set up paypal buttons to receive payments. We have used a wide range of shopping cart platforms such as OsCommerce, WordPress E-commerce solutions, and have also built custom platforms to suit our clients needs.
| Description | Price | Notes |
| --- | --- | --- |
| Domain Name Registration (www.yourname.com) | $70 (for 2 years) | |
| Domain Transfers | FREE (When Transfering to NSync) | |
| Website Development (HTML) | $95 per hour | |
| Website Hosting/ Maintenance | $29.95 - $85 per month | |
| Search Engine Registration(over 5,000) | $49.95 Submission $99.95 Optimization(Requires editing your pre-existing HTML) | Free(For Our Clients) |
| Custom Graphic Development | $95.00 per hour | Free(For Our Clients) |
| Image Scanning | $19.95 per hour | Free(For Our Clients) |
| Custom Web Scripting(client side and server side) | $105.00 per hour | Call For Quote |
| Database Development | $135.00 per hour | Call For Quote |
| Custom Programming | $135.00 per hour | Call For Quote |
From The Blog: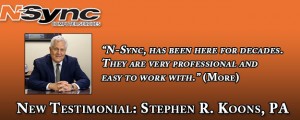 Today we received some very kind words from a long time client of ours,... Read More ››