PC Repair
We service all brands and types of computers, both proprietary and non-proprietary.
So, you had your "computer-wiz" brother-in-law or nephew attempt to fix your PC/Laptop and it still doesn't work? Now is the time to call N-Sync Inc. Computer Services. We aren't your average computer repair company. N-Sync is a full-service repair facility with resources available for both hardware & software.
Many computer repair companies take advantage of people that aren't familiar with computer hardware. We will analyze your system and give you an honest diagnosis of your particular situation. We ensure you understand exactly what is going on before proceeding with any fixes and/or upgrade recommendations.
N-Sync can assist you with preventive maintenance by performing the following tasks (if applicable):
System analysis
Backup and recovery strategy
Virus testing and protection strategy
System backup to removable media
Hardware testing
System life cycle analysis and upgrade strategy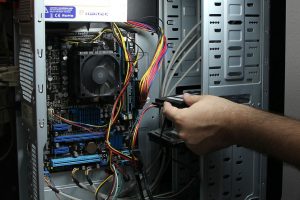 We offer both on-site and in-house PC & Laptop support services.
We are also a computer & computer peripherals retailer, so call us to find out if we can get the item you need. Or we can build a computer designed to meet your particular needs.
Onsite Rates Cover Days, Evenings, Weekends!
Training provided for some products!
WiFi/ Internet
N-Sync can help you with your home networking needs. This includes setting up your home modem and router and optimizing it for best wireless range.