VoIP product! The 3CX system.
3CX Phone System for Windows is an award-winning software-based IP PBX that replaces traditional proprietary hardware PBX. It is based on the SIP standard and supports most popular SIP phones, VoIP Gateways, VoIP service providers and PSTN phone lines. It is easy to manage by system administrators as it integrates well with Windows Network infrastructure.
3CX Phone System is a software-based IP PBX for Windows which replaces traditional PBX hardware phones. It is based on the SIP standard and supports standard SIP software / hardware phones. It allows calls to be made via a VOIP service provider or via the regular PSTN. Easy to install and configure, it includes a web-based configuration interface, voice mail, auto attendant, call hunting and other features. Both commercial and a free edition are available.




More Information
Use popular cell phones with 3CX.
Advantages
No need for separate phone cables as the phone system uses the existing data network
Easier to install and manage via its web-based management console
Far less expensive than a hardware-based PBX
Allows employees to hot-desk and tele-work
Users can configure their extensions themselves using the self-service User Portal
Utilize any SIP phone instead of being locked into one vendor
Receive and make calls via existing phone lines using VoIP Gateways
Save on call costs with 'out of the box' configurations for popular SIP / VoIP providers
Only system to pass Microsoft quality testing for Microsoft server 2003
Built for small to medium businesses
Key Features
3CX Assistant – Desktop Call Control
3CXPhone – integrated VoIP SoftPhone
Web-based management console for easier administration
Unlimited extensions
BLF – set presence and eliminate phone tag
MS Outlook / Salesforce.com integration – launch calls directly from your favorite CRM
3CX Bridges – connect branch offices seamlessly
3CX Tunnel – for easy remote connections
Fax server
Unified Messaging – receive voice mail and fax via email
Unlimited auto-attendant / digital receptionist
Phone provisioning
Paging and intercom
Call forwarding with advanced rules by caller ID, time and type of call
Call queuing, recording, conferencing
Call park and pickup
Configured to use only one TCP port
Call For Quote!
Pricing coming soon.
All the above 3CX Phone System Editions include 1 year Maintenance.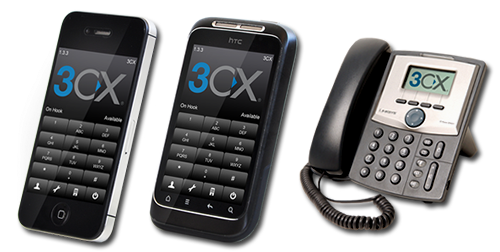 You could try to do this yourself as this was the principle that 3CX IP PBX was designed around, but from our experience and countless hours of testing, it is far more cost effective and beneficial to buy a complete 3CX/phone/call center solution from N-Sync inc.