EXPERIENCE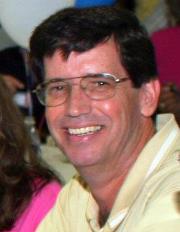 FOUNDER / PRESIDENT / ENGINEER: N-Sync inc. Computer Services, Cocoa Beach, Florida. A Novell Gold authorized reseller. Responsibilities include the integration installation and configuration of desktop computer systems & LAN/WAN, Intranet/Internet networks. Including state of the art mult-processor fileservers, web servers, mailservers, applications servers, communications servers and SNMP servers. Responsible for all aspects of running a fast growing half-million dollar company: contracting, scheduling, purchasing, invoicing, accounting and technical management. (June 1989 to present).
I&M ENGINEER / TECHNICAL ADVISOR: Martin Marietta Operations Support (formerly GE and RCA), U.S. Army Sea-based Aerostat project, Melbourne & Key West Florida. Technical Advisor to the Department of Defense. Responsibilities included the installation, operation, maintenance and repair of electronic components and subsystems including: IBM telemetry data acquisition systems, Macintosh based radar display & control system, Sun SPARC based multi sensor workstations, digital fiber optic & microwave telemetry data links, AN/APS-143V airborne search radar, TPX-54 IFF system, X & S-band navigation radars, satellite Loran and GPS navigation systems, HF, VHF, UHF & Satellite voice/data secure communications equipment, Also functioned as the senior Martin representative aboard and point of contact for the Army. Held a secret clearance. (July 1990 to December 1993).
ELECTRONIC "A" TECHNICIAN: GE Aerostat Systems, USAF Tethered Aerostat Radar System project, Cape Canaveral Air Force Station, Florida. Responsibilities included the installation operation and maintenance of IBM based communications report processors, Starcon radar displays, Fulsom digital scan converters, PCM/FM microwave telemetry, pressurization and site computer systems, AN/DPS-5 S-band CFAR/MTI search radar, APX-76 IFF, AN/GYQ-51 Advanced Tracking System. Member quality improvement team. Held a secret clearance. (August 1987 to July 1990).
ELECTRONIC "A" TECHNICIAN: Pan American World Services, subcontracted to TCOM/DESCO a Westinghouse subsidiary. Assigned to CARIBALL Project Freeport Bahamas. Responsible for setup, checkout, operation and troubleshooting equipment such as TPS-63 L-band Search Radar, TPX-54 IFF system, UPA-62 radar display, digital target extractor, EEC color weather radar, C-band microwave telemetry links, Z-80 airborne computers, IBM ground control computers, pressure control systems, instrumentation and UPS systems. Held a top secret clearance. (April 1985 to August 1987).
MILITARY SERVICE
AVIONICS TECHNICIAN: United States Air Force. RAF Lakenheath U.K., Cannon AFB New Mexico. Responsible for checkout troubleshooting and repair of equipment such as: ARC-123 HF systems, ARC-164 Have Quick UHF Systems, ARN-84 & ARN-118 Tacan Systems, and central air data computer systems of the F-111F. Trained and supervised personnel on same. Held Top Secret Clearance. Received honorable discharge. (February 1981 to February 1985).
EDUCATION: Novell Certified NetWare 3.x Engineer, 1993. Novell Certified NetWare 4.x Engineer, 1997. Novell Certified Intranetware Engineer, 1998. Florida Licensed Real Estate Salesperson, 1994. GE Quality Improvement Process Training, 1989. Cocoa Beach High School 1980.
U.S. Air Force Electronic Technical Schools: Lowry AFB Denver Colorado. Basic Electronics Course, Integrated Avionics Manual Test Station Component Specialist (32635A) 780 hours, High Reliability Soldering 42 hours, Digital Techniques 70 hours, Integrated Avionics Systems Technician (COMM F/FB-111) 54 Hours, Integrated Avionics Systems Technician (NAV F/FB-111) 60 Hours, Integrated Avionics Manual Test Station Component Technician CDC Course (32655A). Total hours 1006. Honor graduate of all courses 96% or better.
AFFILIATIONS
Chapter President: Space Coast NPA (Network Professional Association) 1994 & '98.
Chapter President: Space Coast ITPro (Institute of Network Professionals) 1998