December 23, 2014
How 3CX Phone System Pro Can Transform Your Call Center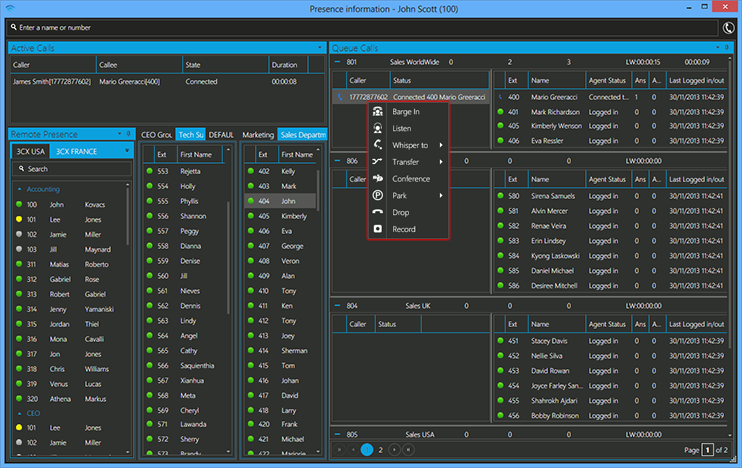 Call centers can be the ultimate double-edged sword for businesses. On one hand, if your call center is functioning optimally and providing customers with top-notch service, you're likely to create long-lasting relationships and increase sales through cross selling and upselling.
On the flip side, a dysfunctional call center that causes long wait times, multiple transfers between agents, and other frustrating issues can lead to customer churn and lost revenue. Hiring skilled agents is critical to great customer service, but onboarding the right personnel is not the only factor in contact center success.
To truly optimize their call centers, businesses need IP-PBX telephony with contact center functionality. For example, 3CX Phone System Pro Edition offers a variety of contact center features that boost agent productivity and support top-of-the-line service, including:
Allowing customers to hang up and keep their position in the call queue, automatically calling them back when their turn is up
Real-time viewing of the number of callers in the queue
Queue functionality such as: Round Robin, Longest Waiting, Least Talk Time, Fewest Answered
Instant notification when callers have been in a queue beyond the set SLA time
Listen In & Whisper feature that allows supervisors to relate important information to agents during a customer interaction
Barge In feature that allows managers to assist service representatives and/or customers by joining in mid-conversation
3CX Phone System Pro also comes with advanced reporting capabilities that allow supervisors to quickly drill down on crucial performance indicators like average waiting time, call resolution percentage, or call distribution. Those statistics can also be displayed on a monitor so supervisors can keep track of what's happening in the contact center just by looking at a single screen.
In addition to features specifically tailored to contact centers, 3CX Phone System Pro includes all the functionality of the product's standard version, many of which are also useful for call centers. For example, contact center employees can leverage unified communications features like cross-office presence. Using presence to see the status of co-workers allows call center employees to: place a call to or leave a voicemail with a customer; contact a colleague in a different location to get an answer to a difficult customer inquiry; or transfer a call to the appropriate department—all from a desktop with a few mouse clicks.
Last but not least, 3CX Phone System Pro can seamlessly integrate with existing CRM systems like Salesforce, Microsoft Dynamics, Sage ACT!, SugarCRM and Google Contacts. The 3CX CRM Integration Module facilitates that integration, thereby allowing your contact center to continue using the customer database you've already built while reaping the benefits of your new best-in-class IP-PBX phone system. Once the integration has taken place, agents receive screen pops displaying customer information when an incoming call arrives from an existing contact in the CRM system. Agents can also make outbound calls to customer contacts with a single mouse click.
Trying to run a contact center effectively without a phone system that includes advanced call center features is a lot like trying to fit a round peg in a square hole; no matter how hard you try, you'll never get exactly the right fit. But as soon as you install 3CX Phone System Pro, you'll notice everything in your call center beginning to line up exactly right.
Click here to learn about the full capabilities of 3CX Phone System Pro.