April 30, 2018
N-Sync President Keith Shook Awarded as 3CX Advanced Certified Engineer

Today, N-Sync President Keith Shook has earned 3CX Advanced Certified Engineer status.
This certification requires advanced knowledge in the 3CX Voice Over IP (VOIP) technology.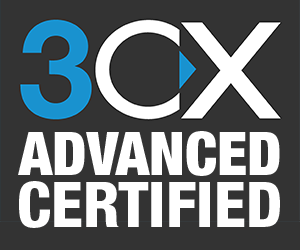 3CX Phone System for Windows is an award-winning software-based IP PBX that replaces traditional proprietary hardware PBX. It is based on the SIP standard and supports most popular SIP phones, VoIP Gateways, VoIP service providers and standard phone lines. It is easy to manage by system administrators as it integrates well with Windows Network infrastructure.
3CX Phone System is a software-based IP Phone System for Windows which replaces traditional hardware phones. It is based on the SIP standard and supports standard SIP software / hardware phones. It allows calls to be made via a VOIP service provider over the internet or via the standard phone lines. Easy to install and configure, it includes a web-based configuration interface, voice mail, auto attendant, call hunting and other features. Both commercial and a free edition are available.
Call us today to learn how 3CX can help you lower your phone bill and modernize your telecommunications.